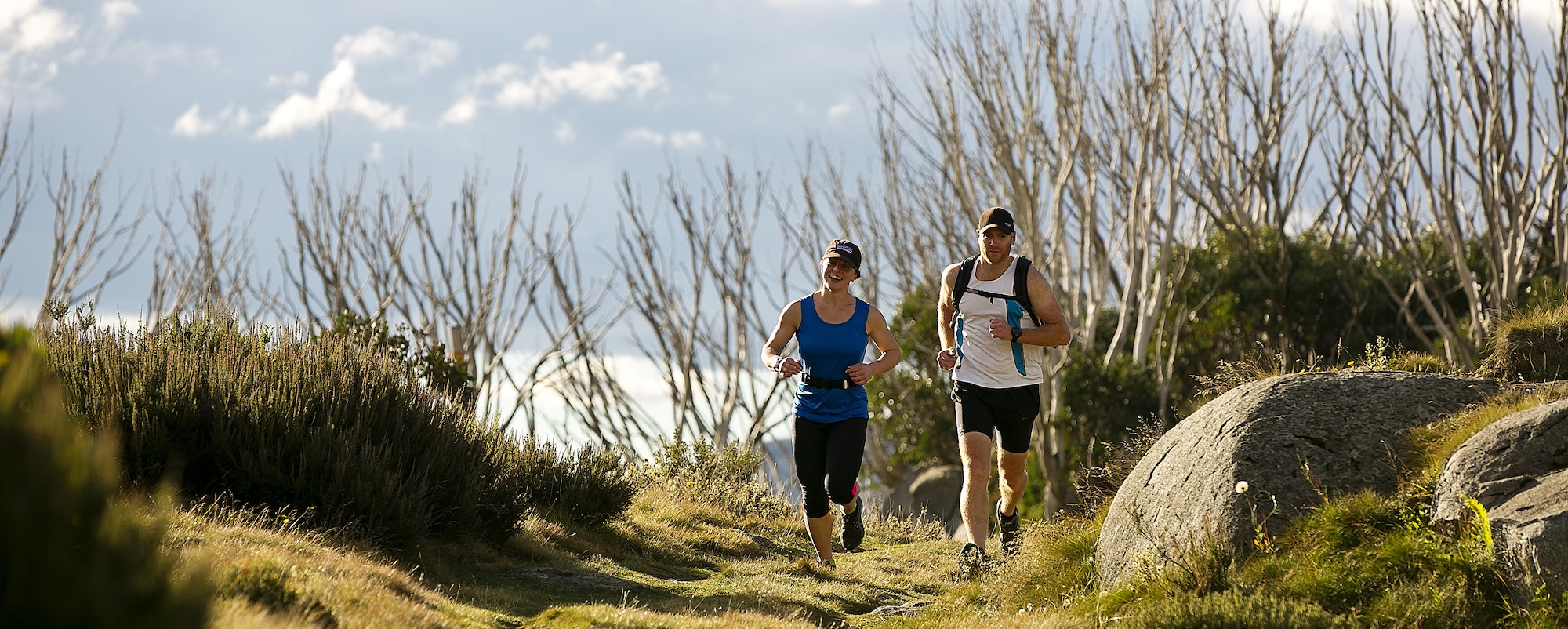 Trail running at Falls Creek
Falls Creek is a unique offering when it comes to alpine trail running. Combining a diverse range of trails with its beautifully appointed village and iconic tourist landmarks, Falls Creek brings together accessibility and convenience with challenging rewards for all abilities. The trails at Falls range from flat well-manicured walking and vehicle tracks to rugged and remote singletracks through extreme alpine terrain. Heritage sites like Wallace's and Cope Huts join the spectacular features of Rocky Valley Lake, Mt McKay and Frying Pan Spur in an enviable sightseeing aspect to the trail offering. To be part of the group, run in Falls during January when the cream of elite Australian distance running come to take advantage of the cool climate and 1600m+ altitude training benefits.
Accommodation
To book accommodation at Falls Creek visit fallscreek.com.au.
"A gentle introductory run that scoots you out to serene Rocky Valley Lake via the sweeping 'Walking on Water' trail and returning via the resort's Aqueduct Trail. Mostly graded underfoot with a reasonable incline to begin."
DISTANCE: 6 km
TRAIL TYPE: Loop
COMBINED ASCENT/DESCENT: 160 metres +/-
RUN RATING: 11/45
START: Falls Creek Visitor Information Carpark
FINISH: Falls Creek Visitor Information Carpark
ESTABLISHED TRAIL NAMES: Walking on Water Trail, Aqueduct Trail
GEOGRAPHIC REFERENCES: Rocky Valley Dam Wall
TRAIL HIGHLIGHTS: Traverse through woodland on Walking on Water Trail, bomb down to dam, dam wall run.
MAPS AVAILABLE: Falls Creek Alpine Resort Maps (representative); www.fallscreek.com.au/Maps; Bogong Alpine Area 1:50,000 (SW Maps).
THE RUN
Starting at the Visitor Information Centre, run up Slalom Street through the village for about 100m until you reach the Falls Express liftline above you. Turn hard left up a small grass incline and follow the trail to the left.
You will pass some snow barriers on your left as you start the climb up Walking on Water Trail. Keep to this side as the trail soon diverts off the main run. Pace yourself up here as the ascent continues, crossing over the Aqueduct Trail (on which you will return).  Keep following the signs for the Walking On Water Trail, which bears left at the clearing and eventually joins Mt McKay/Pretty Valley Road.
Run along this dirt road for a short way before a brief climb up the Tank Trail to the right on a wide single-and-a-half trail.
You will come to a short non-technical descent that eases you down toward the lake – nothing too steep and worth a bombing run down before hitting unsealed Pretty Valley Road again, with a carpark adjacent. Follow the road on, eventually hairpinning around and down to the lake's edge.
Before hitting the dam wall you can turn left towards a toilet block to pick up the Aqueduct Trail. Alternatively, it is worth the run across the dam wall, the bitumen stretch made up for by the huge views down Rocky Valley Creek and across the lake towards Bogong High Plains. Another bonus for effort is the ensuing slightly technical run downhill when you reach the end of the wall and double back under it.
Crossing in front of the dam wall there is a trail to be made out, which drops down before a short incline takes you back up to rejoin the start of the Aqueduct Trail.
From here, simply follow the aqueduct (a grey pipe alongside a gravel trail. You will soon cross the Bogong Alpine Way – take care when crossing, and eventually reach one several exits down to the village, starting with the Walking On Water trail that you started off on. You can otherwise continue on the Aqueduct Trail to stretch the legs further with exits at Parallel Street and Schuss Street.