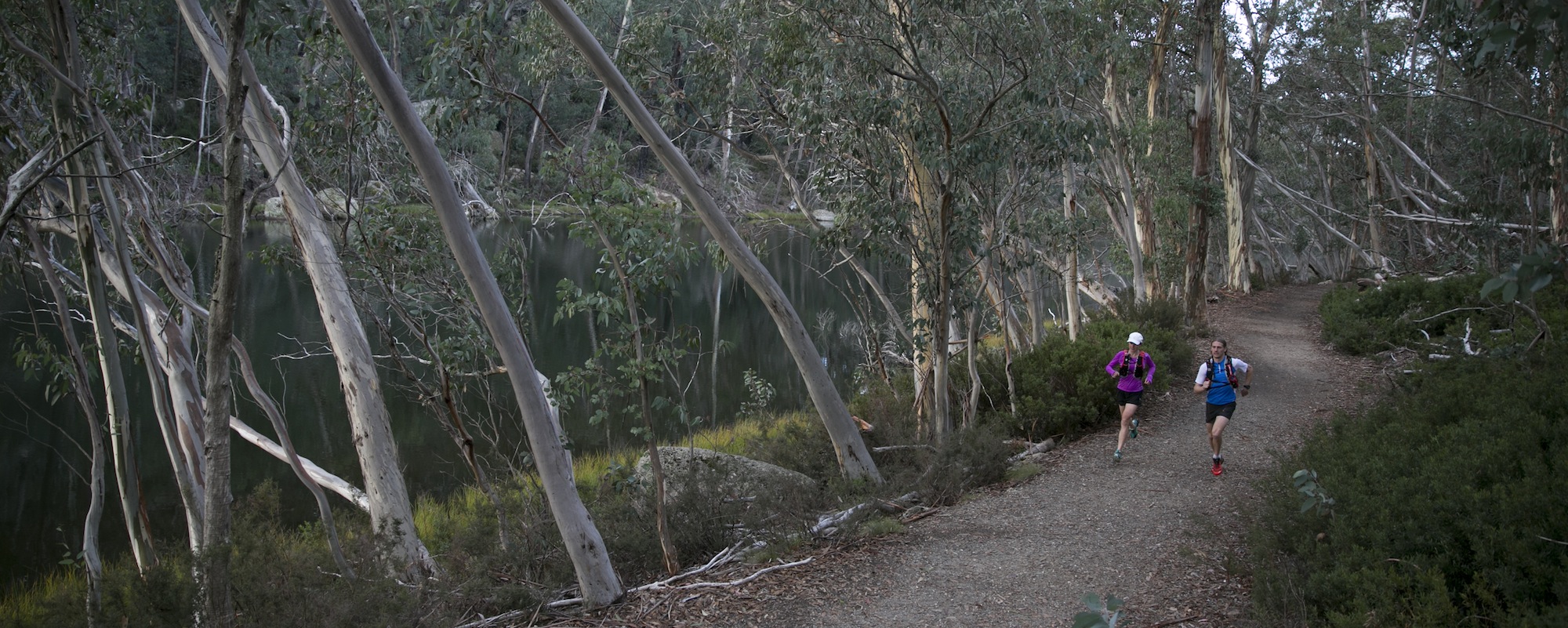 Trail running at Mt Buffalo
Mt Buffalo, the "Great Granite Plateau", provides three unique and interesting runs for those looking for something a little different. The three trails explore very different parts of this boulder laced environment: the green route takes in technical singletrack that plunges down past the boulder filled underground river to climb back up and emerge on the edge of the plateau for some great views; the blue route takes in Lake Catani before threading in and under the giant boulders of the Chalwell Galleries and the black route takes the runner further afield, linking together some of the plateaus hidden plains and iconic locations, such as the Giant's Causeway, Stanley Rock and Og, Gog and Magog.
Accommodation
To book accommodation in Bright & Surrounds visit www.visitbright.com.au.
"This loop trail may be short, but it punches above its weight for sheer beauty, big views and fun technical running."
DISTANCE: 3.4 km
TRAIL TYPE: Loop
COMBINED ASCENT/DESCENT: 128 metres +/-
RUN RATING: 15/45
START: Gorge Day Visitor Area
FINISH: Gorge Day Visitor Area
ESTABLISHED TRAIL NAMES: Underground River Track
GEOGRAPHIC REFERENCES: Lake Catani Track (but peel off left before you get to Lake Catani); Underground River Track.
TRAIL HIGHLIGHTS: Awesome technical singletrack, steps down to and up from Underground River and big views from Billsons and Haunted Gorge lookouts.
MAPS AVAILABLE: Parks Victoria Map (representative only); Mount Buffalo 1:30,000 (SV Maps)
THE RUN
This run will take you on a counterclockwise journey of the established Underground River Track. Begin from the lower side of the Gorge Day Visitor Carpark.
There is a trail pointing towards Lake Catani located to the back (away from the view side of the mountain) of the carpark. This is a XC ski trail in Winter and a well groomed, wide, flat underfoot gravel trail. Run down this, enjoying the big boulder scenery on your right shoulder and some towering trees above. Use this section as a good warm-up, given its non-technical nature.
About 900m in you will reach a singletrail turn off to the left, with signs to Underground River and View Point Nature Walk. Here the fun begins.
The trail gets technical as you start to run over boulders. You will reach another turnoff with signage to View Point on your right. You may like to extend your run by taking in an out and back for the views. Otherwise, for a strictly green-rated experience, continue on left toward Underground River. You will cross more big boulders before reaching the top of a steep staircase, recently revitalised by Parks Victoria. Approach with caution: if you are not confident, walk down the stairs. For those proficient at downhill technical, this is a fun set of stairs to run.
At the bottom of the mountainside valley, take care as your cross the boulders that help you get across Eurobin Creek – also known as Underground River. Everyone should walk at this point.
Then it's a case of what comes down, must go up. A set of stairs that is runnable, but again, if just starting out your trail running journey, walk (noting that in trail running, even the best athletes in the world often power walk steep inclines, as it is often just as fast as running if your technique is correct!).
The trail tapers off as it comes to Haunted Gorge and then Billsons Lookouts, with both offering sweeping views out across the Buckland Valley. It's Top of the World stuff.
The trail then runs easy underfoot with towering gums above back to the bottom of the carpark where you started.